REFUGE
God is our refuge and strength, an ever-present help in trouble. Psalm 46:1
Change is something we have become accustomed to and this was evident at SPARK 2021. This past Saturday, youth gathered in-person at the Erie Bayfront Convention and virtually from local churches. Our youth were able to put together 68 hampers for the Erie United Methodist Alliance's The Refuge. The Refuge is a 32-bed emergency shelter for families experiencing a housing crisis. The shelter is equipped to house up to nine families at a time, providing each family with an individual room which allows the family unit - including Dad - to stay together during their time of homelessness.
The hampers included laundry detergent, dish soap, kitchen dish towels, disinfectant wipes, multipurpose cleaning product, paper towels, garbage bags, and laundry baskets.
When asked why we do Mission work, one of the youth answered, "because we care and it is what Jesus would want us to do." Let us continue to care and emulate Jesus is everything we do. These hampers might not seem like a lot, but in many circumstances a little can go a long way. We can work together to make the work load light.
For where tow or three gather in my name, there am I with them." Matthew 18:20
Mission Pastor/Staff Cohort Registration Almost Here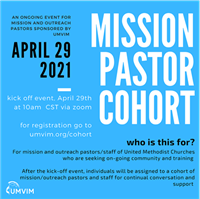 UMVIM is offering a short training and cohort kick off event for mission and outreach pastors/ staff who are seeking on-going community and training. Join UMVIM on April 29 for a short training and cohort kick off event!
To register click here.
Volunteers Needed
All God's Children Ministries Ramps of Hope: This Thursday evening 4:30 pm on the east side of Erie there will be build for a ramp for a woman who has not been home in over 6 years! If you could lend a hand please contact Colleen Miller-Donor at AGCMROH2010@gmail.com or call the Ministry number 814-580-8758
Holy Family Institute: The Holy Family Institute has had a unique volunteer opportunity arise. The Institute expects to start receiving 80 migrant children, ages 3-12, as part of the response to the crisis at the border. The Federal Government is working directly with Holy Family Institute to make the accommodations. The children will stay at the new Holy Family Institute (HFI) location in Coraopolis (Our Lady of Sacred Heart School campus). Children will be at HFI until they are connected to their sponsors (approx.: 10-15 days) Sr. Linda Yankoski (President/CEO) and Lynn Guerra (Director of Volunteer Services) are looking for volunteers to support the children during this time. More information is below:

Volunteers needed for all 3 shifts (6:30a- 2:30p, 2:30p- 10:30p, 10:30p-6:30a)
In need of volunteers to help with supervising children ages 3-12, need assistance with cleaning and disinfecting play areas, serving meals, and doing laundry. Caring for children and supporting those impacted by trauma.

All volunteers need clearances
Bilingual volunteers are greatly appreciated!
Volunteers who have childcare and disaster/trauma experience may be beneficial (Brethren Disaster Service's Children's Disaster Service-trained volunteers may like this opportunity)
If you are interested in assisting with helping the Holy Family Institute, please contact Lynn Guerra via her email:guerra.lynn@hfi-pgh.org.
American Red Cross: The April Calendar is now up and running for volunteers interested in assisting in the operation of a vaccination site being operated by Allegheny County in collaboration with The American Red Cross of Southwestern PA. See flier for more information.
Erie United Methodist Alliance (EUMA): EUMA Urgent need for volunteers.

Volunteers are needed at their neighbors' place seasonal overflow shelter. Please visit their web page to see needs and dates.
Volunteers are needed to be on a call list - when there's a need to provide food and other items for those quarantining at the Avalon Hotel. For more information or to place your name on that volunteer list.
For more information visit EUMA's webpage.
Rio Texas Conference:

They experienced substantial damage from a Winter Storm this year in all areas of the conference. The damage was so widespread, the conference asked churches to reach out to their communities and they would provide financial resources to assist. Unfortunately, the response has been disappointing with very few requests for assistance. The conference is now ready to receive teams. Teams will be assisting with the following disaster recovery:

Hurricane Hanna struck the RioGrande Valley during the summer 2020. This was the third straight year that flooding events occurred in the same area. This area has been hard hit by COVID 19 so volunteers should be vaccinated. Teams will be accepted any time during 2021. For more information contact Susan Hellums at 956-648-8509 or at shellums@mcfirst.com. For more information visit The Rio Texas Conference Website.

Texas Conference:

Winter Storm 2021 (Uri) struck The Texas Annual Conference has thousands of people without running water in their homes due to broken pipes. They also do not have home insurance to cover the cost of repairs. These homes are located throughout Southeast Texas.

They are in need of plumbers and skilled handy persons to assist with pipe repairs in homes.

Plumbing supplies needed:

Volunteers are needed to assist in the following:

Long Term Recovery from Hurricane Laura in Southeast Texas – Newton and Orange counties.

Winter Storm repair – throughout Southeast Texas

Teams will be accepted: Now through end of August 2021. For more information contact Christine Riggle at 936-788-6650 or at criggle@txcumc.org. To register visit the Conference webpages.

Mississippi Conference:
Louisiana Conference: The Winter ice storm caused isolated damage in Louisiana.The conference is beginning to recruit VIM teams for work on Long Term Recovery from Hurricanes Laura, Delta and Zeta. While the Conference has paused VIM deployment due to COVID, they anticipate being able to host teams beginning in mid-May. Teams will be accepted: May 15 2021.
For more information contact Susan Ringwald at 225-405-3235 or at sringwld@team-umc.org
Refugees
140 female children between the ages of 7-12 years from the border have been re-located to the Erie area. We have received a request for supplies and volunteers will be needed in the near future.

A list of needed donations is listed below.
Clothing needs:

Midweight jackets (aged 7-12)
Sweaters
T-shirts (youth M, S, XS needed most)
Youth socks and underwear
Medium Sports Bras
Training Bras
Pajamas
Pants (sizes 12, 14, 16 needed most)

Comfort needs:

Spanish Language YA books
Puzzles
Coloring books
Crayons/markers
Puzzles
Toys (dolls/stuffed animals)
Pads and tampons

For more information please contact Amy Eden, Voluntary Agency Liaison FEMA at
Mobile: (202) 710-6297 or at Amy.eden@fema.dhs.gov
Mission in Cuba
Revs. Guilleromo and Adria Mighty of the Cuban United Methodist Church are currently in the West Ohio Conference, sharing their ministry with their partners in that Annual Conference. They are interested in itinerating in Western PA to share about their ministry. They will be in the United States through April. A translator will be provided. If you interested please contact Rebekah Clapp at rclapp11@gmail.com
Rev. Guillermo León Mighty

Rev. Guillermo León Mighty is the district superintendent of the Havana district in the Methodist Church of Cuba. He and his wife, Adria Nuñez Ortiz, co-pastor Havana Central Methodist Church, a vibrant, Holy-Spirit-filled church in the heart of the city. Pastor Adria is also an accomplished musician and composer, leading the music and liturgy for their church and their district. They are both dynamic and powerful preachers.
Their church is experiencing revival. In the 12 years they have been appointed, it has grown from 80 members to 920. They are located in a difficult part of the city and focus on reaching those in their community, bringing people out of drug addiction, alcoholism, prostitution, and gangs. They work to feed those in their community and minister to neglected children and orphans, preaching the Gospel to all.

During Coronavirus, they have continued to serve their community the best they are able, providing for food and other needs, as their economy suffers. It has been difficult on the life of their church, with their services being suspended for most of the past year. They do offer virtual services, however internet is not widely or easily available to many of their members. Yet, they continue their ministry by faith.

Recently, Pastors Guillermo and Adria have been able to visit the U.S. to preach in some of their partner churches and raise support for their church's ministry.
UMVIM
Puerto Rico
The Methodist Church of Puerto Rico / ReHace is now accepting volunteers January 2022. They will only allow three teams of 8 per week, whereby each team will be split into two work teams. These teams will be placed in the three municipalities, Patillas, Arecibo and Metro San Juan. Teams are encourage to to start signing up for dates for 2022, as they will fill up fast. Intent to serve form.
The Methodist Church or Puerto Rico/ ReHace, will continue to have Zoom calls to keep everyone updates. These Zoom calls are recorded and will be shared as soon as they are available. For more information contact Tymera Jackson tjackson@nyac.com
Bahamas Methodist Habitat
If you are looking for a missionopportunity, Bahamas Methodist Habitat is ready to work with teams starting in May. Recovery efforts following Hurricane Dorian were pre-empted by the pandemic. For more information contact methodisthabitat@gmail.com.
Virtual Mission Journeys
A Virtual Mission opportunity to the East Congo Episcopal Area with missionary Collins E. Ako begins this Thursday. There will be a major focus on health ministries. The speakers are Dr. Marie Claire who runs the Mama Lynn Centre for Rehabilitation for women and girls who have experienced sexual violence (mostly by armed groups of military and rebels); Dr. Damas, who coordinates the conference's health ministries and the director of two orphanages.
The dates are Thursday, April 22, for the mission overview, April 26, 28, and 30 for the individual ministry presentations. The times for each day is 9:00 a.m. Central Time and will last 1-1.5 hours.
To register, please click here, even if you can't attend everyday, please join us!
View past Virtual Mission Journeys visit the UMVIM page.
Mustard Seed Migration Grants
United Methodist churches in the United States can help refugees and migrants living in their communities thanks to a new grant program from the United Methodist Committee on Relief (UMCOR). "Mustard Seed Migration Grants," inspired by the well-known parable about growth, will provide fifty congregations with up to $2,000 in funding to support one-time, community-based service projects in their own cities and towns. Applications are due by May 16, 2021 and require the signatures of the church's senior pastor and lay leader and bishop or director of connectional ministries.
"The new Mustard Seed Migration Grant program can help local churches live into a new understanding of the kingdom of God as they actively engage in caring for the most vulnerable in their midst," said the Rev. Jack Amick, director of global migration for UMCOR. "It is a fitting continuation of our history since UMCOR was founded 80 years ago to help migrants forced to relocate due to World War II."
For more information about the Mustard Seed Migration grants or to complete an application, visit The Mustard Seed Page
Global Ministries
#StillinMission: Save the dates and share with others.
#StillInMission Episode 30, April 29, 2021 @12pm EDT Register
#StillInMission Episode 31, May 27, 2021 @12pm EDT Register
#StillInMission Episode 32, June 24, 2021 @7pm EDT Register
Registration is required. Want to hear recordings of previous meetings? Visit the Vimeo Channel.
Itinerate with a Missionary
In the past Mission News we have featured Rev.The Rev. Nkemba Ndjungu; A missionary with the Board of Global Ministries of The United Methodist Church, serving with MCCA Belize Honduras District, The Methodist Church in the Caribbean and the Americas as pastor, trainer and mentor. This coming May he will be conduction a virtual Itineration sharing his work. Click here to join the Zoom meetings.
Mission Discovery
The Mission Volunteer office of Global Ministries is offering virtual mission discovery events in 2021 for anyone interested in learning more about volunteer opportunities in the U.S. and around the world.
Volunteers join in God's mission to make disciples of Jesus Christ for the transformation of the world. "Even in a virtual environment, this dedicated time will equip participants to have a better understanding of the volunteer network offered through Global Ministries," says Una Jones, director of Mission Volunteers for Global Ministries.
During the virtual discovery events, participants will receive an overview of the basics of volunteer service, learn about different ways in which they may serve and engage in conversation with the Mission Volunteer and United Methodist Volunteers in Mission(UMVIM) staff.
The two-hour events will be offered four distinct times so participants may attend when the time best aligns with their schedule. The events are scheduled for:
Thursday, June 3, 3-5 p.m. EDT
Saturday, June 5, 10 a.m.-12 p.m. EDT
Visit this page to register to attend a mission discovery event. If you have questions or would like more information, please email mv@umcmission.org.
Know anyone in need of Utility Bill Assistance?
Roots of Faith is a location of Faith UMC in Sharpsburg, PA. Their vision is building community by reconciling people with God and one another.
Roots of Faith is taking applications of Dollar Energy and LIHEAP. For more information call 412-799-011. Mon-Thur 10am to 3pm.
Need for Hand Sanitizer?
Are you in need of hand sanitizer? Do you know any churches, projects or individuals in need of hand sanitizer? Hand Sanitizer is available in a variety of size bottles. "10oz, 12oz, etc." For more information please contact Rev. Eric Raygor at eraygor@gmail.com

Three P's in Mission. The Players, Payers and the Prayers.